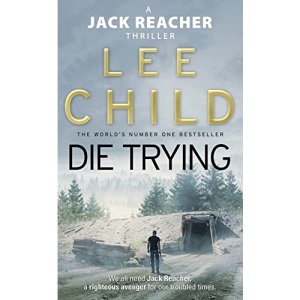 Die Trying
Format: Paperback (548 pages)
Edition: New edition
ISBN 10: 0553505416
ISBN 13: 9780553505412
Publisher: Bantam Books (Transworld Publishers a division of the Random House Group)
Published: 01 Apr 1999
Item Condition: Used - Good
Price:£2.59
List Price: £7.99
You Save:£5.40 (68%)
Description:
Jack Reacher is strolling nowhere in a Chicago street when he spots an attractive young woman struggling on crutches. He stops to offer her a steadying arm. And then he turns around to see a handgun aimed straight at his stomach. Locked in a dark, stifling van racing across America, chained to the woman, Reacher needs to know why he's there.
Die Trying Reviews
Have you read this book? Share your thoughts with others:
Write your own review

Please login to write your own review.