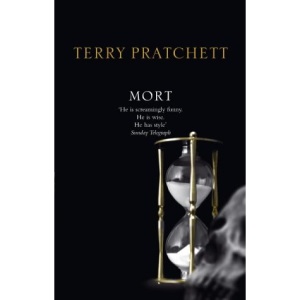 Mort (Discworld Novels)
Format: Paperback (320 pages)
Edition: New edition

ISBN 10: 0552152617
ISBN 13: 9780552152617

Publisher: Corgi Books
Published: 01 Sep 2004
5 in stock

Item Condition: Brand New
Price:£7.45
List Price: £7.99
You Save:£0.54 (7%)
Description:
Although the scythe isn't pre-eminent among the weapons of war, anyone who has been on the wrong end of, say, a peasants' revolt will know that in skilled hands it is fearsome. For Mort however, it is about to become one of the tools of his trade. From henceforth, Death is no longer going to be the end, merely the means to an end.
Mort (Discworld Novels) Reviews
Have you read this book? Share your thoughts with others:
A Horse Called Binky?
By AwesomeBooks Customer, reviewed on 11/10/2012
An awkward boy is about to start a new life as an apprentice, nothing out of the ordinary it would seem until we learn that his master is Death and he is going to be in training to become the most feared being on the Discworld.

Mort is an awkward teenager who does not fit in with his family's life, so when death takes Mort as his apprentice Lezek his farther is happy (he thinks he's going to be an undertaker). We soon learn that death isn't what we first thought, he likes cats, loves curry, has an adopted daughter and a horse called Binky who is partial to sugar lumps.

Mort's early tasks as deaths apprentice impress upon the reader a lot of character building exercisers and the way deaths house is described tell us a lot about death and his fascination but also ignorance of what it is to be human. Mort's ability to turn everything into a comedy of errors is soon thrust upon the reader and he even manages to damage the very fabric of reality in his first solo outing, from there the story rumbles on with various little insights into the Discworld and its cultures thrown in along the way, from scumble to demons everything is included and it is the little insights into the world that Pratchett has created that are almost as entertaining as the story itself.

Pratchett's ability to grab the reader is extraordinary and the world he has created is simply magical (no joke intended) but it is his characters that are the real stars of the Discworld series in my opinion, the way they are portrayed, the relationships between each other and the way that the reader can imagine the tone of each conversation is what makes these books so hard to put down. I fully recommend the discworld series to anyone and Mort is one of the best books in it.
Write your own review

Please login to write your own review.